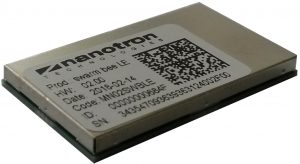 Real-time tracking of vehicles and mining personnel
Berlin, Germany, June 05, 2018 – Nanotron Technologies GmbH and Marco GmbH announce they are working closely together to deliver solutions in the mining industry, helping to improve both safety and productivity in longwall face operations.
Marco has integrated nanotron's proximity detection and positioning functions into its Longwall Face Control solution. Nanotron's swarm bee, a smart RF sensor module, is integrated into Marco's longwall controllers, worker tags, remote control units and excavation units.
The integrated solution means that the location of tagged underground equipment and mining personnel is known accurately at all times. Real-time tracking of mining workers, roof support and excavation units improves worker safety and drives compliance. It also increases longwall operational efficiency, by safely accelerating work sequences and increasing operator flexibility.
Dr. Jens Albers, CEO of nanotron, said: "Both nanotron and Marco are currently experiencing a sharp increase of the demand for their products in Russia and China, the two biggest mining markets worldwide. By combining our products, we can offer a market-leading solution that combines high technology with a strong understanding of the needs of the mining sector."
Martin Reuter, CEO of marco, said: "In marco's automated longwall controls, each device is connected directly into the network, and communicates in realtime online. Our system integration is our customers' largest benefit and our innovations are at least two steps ahead of any competitors' solution."
About Marco:
Marco was founded in 1982 and has grown into an international medium-sized group. Production and headquarters is in Dachau (near Munich), with service subsidiaries in Beijing, China, Seoul, Korea, Mackay, Australia, Novokuznetsk and Vorkuta, Russia and in Charkow, Ukraine. Marco is the market leader and worldwide leading facility provider of electrohydraulic controls for mining machines in difficult operating environments. See https://www.marco.de
About nanotron:
Nanotron is a leading provider of electronic location awareness solutions. If knowing what, where and when is mission-critical to your business, rely on nanotron with Location Running. Nanotron's solutions deliver precise position data augmented by context information in real-time. Location Running means, reliably offering improved safety and increased productivity, 24 hours a day, 7 days per week: Location-Awareness for the Internet of Things (IoT). More information on www.nanotron.com.